A Bit About EvaKool
Our story began in 1994 with a classic Aussie dilemma: How do you keep your ice from melting while enjoying our great outdoors? Born out of this need, EvaKool's original fibreglass icebox transformed the traditional plastic cooler from a short-term solution to an ice-retaining marvel. We soon expanded our range to meet overwhelming demand, providing quality and durable solutions for fishers, campers, and outdoor enthusiasts across Australia.
Australian Craftsmanship, 30-years of Kool
Why Choose EvaKool?
Choosing EvaKool isn't only about great kit for your adventures; it's about investing in reliable Australian quality and innovation. We are pioneers in the art of keeping the important stuff cool.
EvaKool's Australian Made fridges set the benchmark for reliability and performance. We led the way with innovative engineering to deliver the first dual zone fridge freezers that were both power efficient and tropical rated for Australia's extreme conditions.
We also understand that keeping things cool is a mission critical task and your peace of mind is paramount. That's why every EvaKool fridge and icebox comes with Australia's premier no-fuss warranty backed by a national network of service agents.
From humble beginnings in 1994 to today's comprehensive range of outdoor cooling solutions, EvaKool is passionately committed to staying at the forefront of product development, innovation, and Made-in-Australia quality.
1994: The Genesis

In a Sunshine Coast shed, EvaKool and Baileys have a vision to redefine Aussie outdoor cooling with Australian-made fibreglass iceboxes.

Advertised as 'keeps ice up to 10 days'. Our hand-crafted fibreglass iceboxes start the journey that'd make us a go-to for keeping your tinnies cold and Australian adventures cooler.

1998: The Icebreaker

Evakool debuts our first 12-volt fridges, the SupaKool 47 and 60 litre models, made in Caloundra by marrying our legendary fibreglass iceboxes to Australian-made micro compressors.

Ice becomes optional. A new chapter for Aussie adventures!

2000: The Retrofit Revolution

In the new millennium EvaKool integrates the ultra-reliable Danfoss compressor for our iconic RF (Retro-Fit) Series. Its 'outboard' refrigeration delivers superior performance and serviceability.

Over 23 years and more than 66,000 fridges later the EvaKool RF series is still the gold standard in reliability and efficiency for serious outdoor adventures.

2001: The Fibreglass Frontier

EvaKool introduces the ED range, our first fibreglass fridges with built-in motors. Seven beaut models redefine portable refrigeration.

EDs pop up everywhere, in 4wds, boats, camper trailers, and even caravans!

2005: Fridgemate: The Rotomoulded Ruler

EvaKool launches the FridgeMate, a world-first passive dual-zone fridge featuring a budget friendly but still high performance rotomoulded cabinet that opens up access to our amazing 12v fridges.

FridgeMates are also made in Caloundra and the booming 4x4 and marine markets love it. A stalwart of the EvaKool lineup for over 15 years - check out this review of its performance over NINE years for one proud owner!

2008: Custom Fridge Extravaganza

EvaKool takes listening to our customers to the extreme. We'll build anything you can dream up.

In the process of building over 100 'once-off' 12v cooling units EvaKool learns more about fridges than anyone. We carry this knowledge (and samples in our company museum) to this day!

2010: We're not in Queensland anymore

EvaKool makes its first ventures to China for fridge manufacturing and introduced the KM fridges, BCD uprights, plus the premium Indel B range.

2012: Dual-Zone Dawn & Digital Shift

EvaKool launches budget friendly, dual-lid, true dual-zone fridges.

The Chinese made Glacier series sells tens of thousands of units and powers a new generation of young adventurers.

Plus, we go digital, upgrading thermostats and controls.

2015: The TravelMate DZ

EvaKool develops the TravelMate fridge with a Chinese manufacturer and creates the best selling fridge in our history.

TravelMates feature a number of industry innovations including bluetooth, wifi, USB ports, and our signature bi-directional and removable lids.

In 2022 EvaKool moves beyond the TravelMate to deliver improved product quality and reliability for our customers with...

2021 to present: Aussie Homecoming

EvaKool goes back to its roots and a true manufacturer and innovator in by bringing our manufacturing back to Queensland and more than doubling our capacity.

We launch the amazing new Downunder Range, proudly Aussie-made and engineered in Caloundra!

We can't wait to show you the new cooling products coming up for our 30th anniversary in 2024!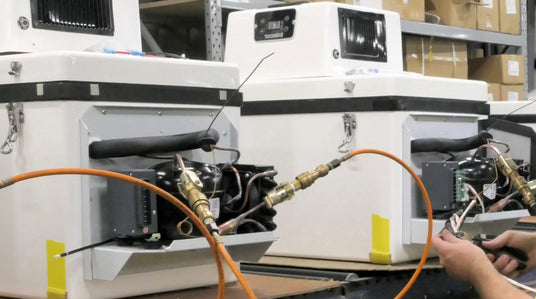 A Commitment You Can Count On
Service & Warranty
When you choose EvaKool, you're not just getting good products—you're entering a partnership built on trust and quality.
Our warranties are as robust as our cooling solutions, offering you that extra layer of assurance. Should you encounter any bumps along the way, rest easy knowing our expert service team is just a phone call away, and our national network of experienced service agents are eager to get you back on track.
EvaKool products are crafted to last and backed by warranties that matter, to ensure your adventures stay cool and carefree. Cheers to reliable, enduring gear and the peace of mind that comes with it.
Hear It From the Legends: Real Stories of Adventure and Comfort
Frequently Asked Questions
EvaKool is Australia's premier manufacturer of top-notch cooling solutions, engineered specifically for our nation's challenging conditions. Our range includes everything from portable fridge/freezers to durable iceboxes.
Boasting over three decades of experience in the industry, EvaKool offers unmatched quality and performance. Choose EvaKool to keep your outdoor experiences refreshingly cool and downright enjoyable.
Where can I find EvaKool products?

Whether you're in the market for a rugged camping fridge or a steadfast icebox, you can find EvaKool products online, swing by our Caloundra Showroom, or visit one of our authorised dealers scattered across the land down under.